Oversupplied and Low Demand: Indonesia's Cement Industry Struggle
Many cement manufacturers in Indonesia are struggling to face slower growth rate in the industry recently due to stagnant domestic consumption and an increase in production capacity. How to deal with it?
In 2016, the domestic cement demand was expected to grow only around 5 to 6 percent, much slower compared to projected supply growth at around 15 to 18 percent.
The dwindle demand from the property sector and delayed government's infrastructure projects have triggered the sluggish demand's growth. In the other side, the industry sees as many as 19 players in the market, twice larger than in 2012 which saw less than 10 cement manufacturers.
According to the group Indonesian Cement Association (ASI), the domestic cement production capacity this year is expected to stand around 100 million metric tons while the demand is projected only around 65 million metric tons.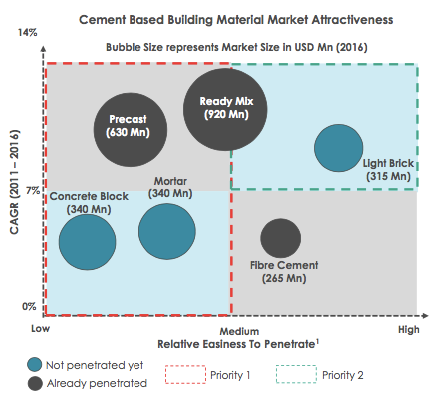 The challenges are, at the same time, opportunities.
To address the oversupplied cement market, we think cement manufacturers need to go further to end customers by diversifying their product portfolio through vertically integrated business.
Basically, there are a number of cement-based building materials in which the room of growth is still available. Just look at precast concrete, ready mix, mortar, fiber cement, block panel, and light brick.
The precast concrete sees strong growth due to the development of infrastructure sector as well as high rise building in Java area. It contributes to around 10 percent of domestic cement consumption in 2016 and expecting increase due to significant capacity expansion. Around 89% of domestic precast market – valued at US$ 630 million – is dominated by nine companies with PT. Waskita Beton Precast Tbk and PT. Wijaya Karya Beton Tbk standing on top.
In ready mix segment, five to six major players dominate the market with 60 to 70 percent market shares, while the rest pieces are controlled by SMEs players. The bubble size of market is valued at US$ 920 million. This segment is expected to see strong growth due to development in most of construction sectors, such as MRT, LRT, flyover, port, residential, and airport.
Our initial research shows around 60 percent of mortar segment is currently dominated by small number of foreign players. This market sees low penetration due to uncompetitive price compare to its substitute product, cement. However, Indonesian mortar market is forecasted to reach US$ 400 million in 2020, with current valuation of US$ 338 million.
In fibre cement, we see only six to seven players competing in the market. Last year, the market was valued at around US$ 265 million with three biggest players segment controlling 71 percent of the market.
In light brick market, between 8 and 10 companies control around 60 percent of the total market shares, competing with other 40 SMEs players. The segment sees strong penetration in most of sectors as contractors tend to use light brick due to its competitive price and ease of installation.
After a quick look at these markets, we can say precast concrete and ready mix concrete are considered the most attractive cement-based building material segment to penetrate due to its growth potential and market potentials.
The concrete block is considered commoditized market. The market is controlled by unbranded producers and SME-sized players. The opportunities are available as the market consolidation is relatively open.
Light brick would be second priority market to pick. This market is gaining strong acceptance due to cost efficient approach as compared to the current traditional construction practices which still used "batako" or "bata merah". However, market is fragmented as many medium sized players are leading the market.
Solidiance, a corporate strategy consulting firm, advises CEOs on make- or-break deals, define new business models and accelerate Asia growth.
We roll-up our sleeves and get our hands dirty in the marketplace. We focus to provide recommendations on meticulously gathered facts not on hearsay.