Indonesia's Ambition on Electric Vehicle
Indonesia sets an ambitious target on the adoption of electric vehicles (EV) with 2.1 million e-motorcycles and 2,200 e-cars expected to take the road by 2025. However, the availability of charging infrastructure and expensive price of EV remain to be the main challenges for the EV adoption.
The Indonesian government put high hopes on e-motorcycles adoption, while the development of e-cars is directed at certain areas, such as tourist areas, industries, and offices. The government also aimed the electric vehicles to be used as public transportation and operational vehicles.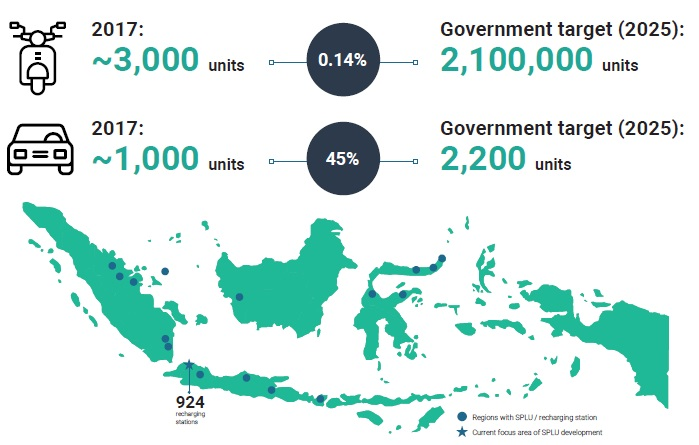 Gesits, the work initiated by Garasindo together with the 10 November Institute of Technology (ITS) is the first electric vehicle made in Indonesia and has officially become a National Electric Motorcycle. In early 2019, PT. Wijaya Karya and PT Gesits Technologies Indo (GTI) teamed up in building a manufacturing plant for electric motorcycles in Cilengsi, West Java.
Additionally, Indonesia is also developing a lithium-ion battery manufacturing plant in Morowali, Central Sulawesi. The Coordinating Maritime Affairs Minister Luhut Binsar Pandjaitan said that Indonesia will become the main player in lithium-ion batteries, used to power electric vehicle technology.
Corresponding to white paper "Electric Vehicles in Indonesia: The Road Towards Sustainable Transportation", Solidiance invited Go-Jek, ride-hailing technology startup based in Jakarta, to conduct a feasibility study on the viability of electric motorcycles as a mode of transportation. The trial involved Go-Jek drivers with the purpose of measuring e-motorcycles' efficiency compared to fuel-based vehicles and create positive social impact.
Public response to EV
Solidiance reported stated the penetration rate of electric motorcycles in Indonesia has only reached 0.14%, far below government target. Electric cars, on the other hand, has a current penetration rate of 45% to reach the government's target. In December 2017, there were at least 1,300 electric recharging stations (SPLU) spread across 24 cities, of which 71% of them were located in the Greater Jakarta area.
Solidiance interviewed 100 motorcycle owners and found that most respondents (63%) are aware of the availability of e-motorcycle in Indonesia. However, they are unlike to purchase one due to negative perception in model, size and readiness of charging infrastructure.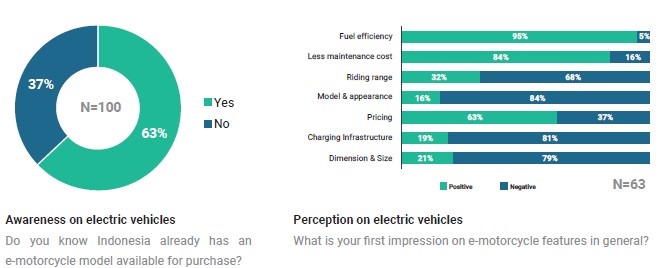 While the result for the interview of 100 car owners found that most respondents (54%) are not aware of the availability of e-cars in Indonesia. They are unlikely to purchase one due to high price and perception of limited readiness for charging infrastructure. For e-cars, 46% of respondents feel that fuel efficiency and the dimension of e-cars are seen as positive attributes.

The urgency for Indonesia to shift to EV
While the benefits of EV outweigh the fuel-based vehicles, EV in Indonesia has yet to gain its expected and maximum traction. The high dependency on fossil fuel as the main energy source for transportation sectors in Indonesia has resulted in several negative impacts, such as increasing state budget allocation, energy sustainability issues, and the high CO2 emission rate.
According to the report, fossil-based energy in Indonesia is identified as the main contributor of high CO2 emissions with the transportation sector producing 31,5% of total CO2 in 2015. As energy consumption levels continue to rise, fossil energy reserves in Indonesia is seen as unsustainable and raises an issue in energy sustainability.
Following the United Nation Conference (COP21) in 2015, Indonesia commits to reduce CO2 emissions as much as 29% or around 303 million ton by 2030. As carbon emission and dependency on fossil energy have become a major concern in Indonesia, the introduction of EV is seen as a possible solution.
Reflecting on the success stories from Norway and China, the report stated that strong government involvement is required to boost EV application and achieve the targeted CO2 reduction levels in Indonesia. There are 3 key potential drivers, including favorability for personal transportation ownership, growing population and rise of middle affluent class, and relatively cheap electricity cost across Indonesia. While there are also main challenges to face, such as no clear policy from the government, expensive price of EV units, and wait-and-see strategy from OEM and infrastructure players.
Hence, all stakeholders, including government, OEM, and infrastructure players are to take part in all 3 stages (initiate, attract, enhance) for successful EV adoption in Indonesia. Active collaboration amongst key stakeholders is necessary for a sustainable plan of EV to gain maximum traction and expand.
Explore more about EV in Indonesia in white paper Electric Vehicles in Indonesia: The Road Towards Sustainable Transportation.